5 Benefits of Going to Physical Therapy for Back Pain at Century Spine Center
5 Benefits of Going to Physical Therapy for Back Pain at Century Spine Center
Written By Century Spine Center on September 6, 2021
---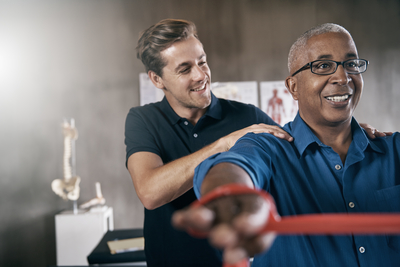 Science and research have taught us so much about injury and healing that now we know how to aid the body with the healing process without impeding it. One major aspect of that aid is physical therapy performed at Century Spine Center, which provides five great benefits when it comes to back pain.
Our staff at Century Spine Center in Easton can provide an accurate diagnosis, identify the stage of injury, promote soft tissue healing, reduce scar tissue, and work with you to help prevent reinjury.
Back Pain and Physical Therapy
Providing quality back pain relief involves more than simply going to a therapist and having them begin working on the area in a "cookie cutter" fashion, treating all cases the same. We perform a thorough evaluation to accurately diagnose your injury so we provide the right care. Pain in one area can hint at a problem in another. We also identify which of the four stages of healing you're in so we know what to do without making it worse, and can better work with your body.
When it comes to promoting soft tissue healing, the correct treatment regimen for you helps moderate inflammation, restores range of motion, increases flexibility, and improves blood flow so your body can deliver healing nutrients to an injury site. Inflammation and swelling can congest an injury site, which leads to slow healing.
Part of the healing process is scar tissue formation. It's designed to protect the injury site while your body rebuilds. The problem is it can take your body anywhere from weeks to years to clear out scar tissue if it isn't managed correctly. This leads to pain and stiffness that often leads to flare-ups of the injury and requires more therapy to address it. It's imperative to manage the scarring process correctly in the beginning, helping the body to form mobile, strong bonds that function like the original tissues.
Learning steps to prevent reinjury is a critical part of a successful therapy program. We do more than get you back in motion. We guide you through stretches, exercises and regular habits designed to minimize the chances of reinjury. Adequate muscle strength and flexibility are key to keeping you active.
Chiropractic Care You Can Trust in Easton
Dr. Zuschnitt is confident you'll know immediately after entering Century Spine Center that you made a good health decision, and that you'll always get the personal care you need. You'll never be treated like just another patient, nor will you be herded in and out of the office like cattle. Dr. Zuschnitt takes the time to listen to your concerns and address your specific needs.
Have questions or need to schedule an appointment? Call us at (410) 763-6700 or go online and fill out our contact form.

Posted In: Chiropractic Physical Therapy