Crick in Your Neck? Come See Century Spine Center for Relief 
Crick in Your Neck? Come See Century Spine Center for Relief 
Written By Century Spine Center on October 6, 2021
---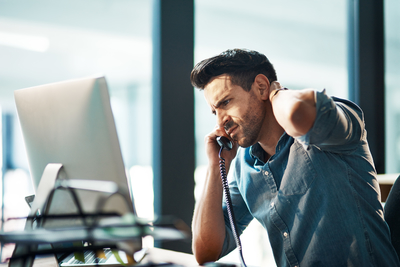 Neck pain happens for myriad reasons. At Century Spine Center in Easton, we take the time to accurately identify the root cause of your neck pain so we can help your body fix it. We have four quality, proven ways to help you get out of pain and stay that way.
4 Ways Our Chiropractors Help Relieve Neck Pain
Neck pain can cause symptoms ranging from tingling and numbness, to headaches and migraines. Our thorough exams help us identify whether your neck pain is due to a muscular or skeletal issue, both of which involve drastically different approaches to pain relief. You could be suffering from a bulging disc, pinched nerve, soft tissue damage, or even muscle strain.
One of the best ways to end and prevent neck pain is to make your life more ergonomic. One of the largest culprits is poor posture. It's easy for us to hunch at our desks and over our phones. We'll delve into your lifestyle and coach you through ways to improve ergonomics and posture, including improving your workspace and adjusting your sleeping position.
To help with ergonomic improvements, it helps to provide more immediate pain relief. Our doctors provide treatments ranging from ultrasound therapy, ice, heat, electric stimulation, traction, soft tissue techniques and manual adjustments to help you feel better and stick with a more neck-friendly lifestyle.
Ultrasound therapy involves soundwaves that can penetrate soft tissue and provide a therapeutic warming effect a traditional heating pad can't accomplish. Ultrasound therapy provides localized care that helps reduce inflammation and relaxes muscles. It's painless and safe to use for most patients. We'll evaluate you to determine whether or not you're a good candidate for therapy.
Manual adjustments tackle those suffering from neck pain that's rooted in skeletal issues. What's happening is either the neck has become stiff or one of your vertebrae have come out of alignment. Both put painful strain on your neck and connected muscles. A proper manual adjustment helps restore range of motion and increase flexibility to help dispel pain.
Much like what we do for ergonomics, we take the time to educate patients how to prevent neck pain. Depending on your lifestyle and unique circumstances, our education differs from patient to patient. Whether it's time for a new pillow, moving your computer monitor, staying hydrated, or adjusting movements that heavily impact your neck, we'll help you avoid neck pain to the best of our ability.
Get Neck Pain Relief in Easton
Dr. Zuschnitt is confident you'll know immediately after entering Century Spine Center that you made a good health decision, and that you'll always get the personal care you need. You'll never be treated like just another patient, nor will you be herded in and out of the office like cattle. Dr. Zuschnitt takes the time to listen to your concerns and address your specific needs.

Have questions or need to schedule an appointment? Call us at (410) 763-6700 or go online and fill out our contact form.

Posted In: Chiropractic Neck Pain Treatment